THIS PAGE CONTAINS SPOILERS
If you have not yet read The Wrath Of Fate, you might consider not looking here, as it will talk about and show scenes from the second half of the book.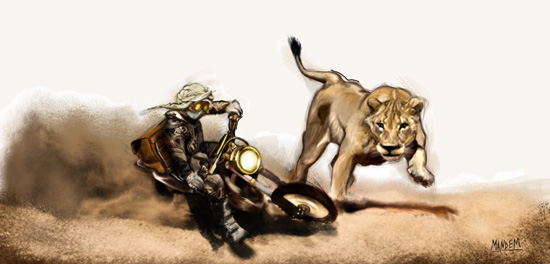 illustration by Mandem.
THE PEOPLES OF THE AIRSHIP PIRATE CHRONICALS
Most of this is more thouroughly described in the core book of
Airship Pirates RPG, but here is a quick run down.

illustration by Juan Pablo Valdecantos Anfuso

NEOBEDOUINS


Neobedouins are a nomadic people of the North American Wastelands. They live and travel in massive wagon trains, raising animals, growing food, and enjoying their rich tribal culture all while on the move.

The wastelands are not an easy place to survive. Its strewn with vastly more, larger, and varied predators then the world has ever seen. In addition to overground lions, and tigers, Neobedouins might also find themselves facing Hyenadon, or Terror Birds. For this reason, Neobedouins have created their own traditional martial art called Beast Dancing. A beast dancer will strap blades to his for arms to create working "claws", and fight the animals on their own terms.


illustration by Mandem
illustration by Juan Pablo Valdecantos Anfuso

NEOVICTORIANS


Held behind the massive walls of the Change Cage cities live the Neovictorians. The repressed urban dwellers vary as much as city people in our own time, from the seedy underworld to the posh upperclass.

They live forever in the shadow of The Cage, and massive tower were in all "progressors" are locked. You see, in the city they believe that any advancements of culture, art, or technology would take the world away from its "perfect balance", and therefore anyone showing any signs of being anything but a perfect victorian will be jailed, or worse.
illustration by Juan Pablo Valdecantos Anfuso

illustration by Juan Pablo Valdecantos Anfuso

AUTOMATONS


An Automaton is an autonomous clockwork machine. They can vary from the very simple, like street sweeper, to the very complex, such as a head butler. They typically live a life of servitude in the city, owned and employed by the wealthy, or perhaps a factory.

Legally, they are not allowed to be so intelligent as to be self aware. If an automaton is discovered to be self aware, are will be disassembled. For this reason, all automatons hide any intelligence they might have developed.

If they can escaped the oppression of the cities they can often find employed as protectors in the wild. A demolition automaton can be useful when your up against a ten ton crock.

illustration by Juan Pablo Valdecantos Anfuso

illustration by Mandem.

SKY PIRATES

A good way to stay away from the beasts of the wastelands is to never set foot on the ground. For this reason, Sky Pirates live their entire lives aloft, either in massive wooden ships held under giant balloons, or in enormous floating cities.

Are all the sky people pirates? To the government they are. Its illeagle to live outside the cities, as it might "upset the delecate enviroment."